Highland Flats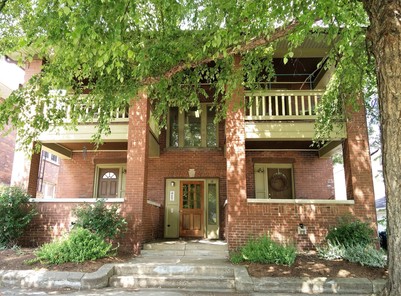 The Highland Flats were constructed circa 1920s with a cozy apartment building feel and nestled in the Holy Cross Neighborhood. The Flats are approximately nine blocks East from Monument Circle, which is the center of activity for downtown Indy. The Flats are also very close to the cultural trail, Massachusetts Avenue, Fountain Square and The Wholesale District allowing for easy access to all sorts of fun activities. The cross roads of I-65 and I-70 can easy be accessed with a short drive of approximately five blocks. The Flats are conveniently close to everything! The property has been meticulously restored on the inside and out allowing for modern day conveniences in a historic building.
Most of the flats are considered one bedroom efficiencies, which is perfect for students and people on the go. Electric bills are very inexpensive and rents are very affordable making for a great value for someone that wants to live very close to downtown, but not have an exorbitant rent payment.
Amenities:
Several flats have great views of downtown skyline!
New carpet, ceramic tile, appliances, tub/shower, new everything!
Intercom with door release
Plenty of parking in the parking lot behind the building
Onsite laundry
Central heating and cooling
Balconies (available with 4 of 11 apartments)
100 percent electric
CCV camera surveillance
Exterior security lighting
Each flat has a unique floor plan. The following pictures provide a sample of the various floor plans.